arched micro-architectures at the louvre
Studio Malka Architecture is selected to design and build fifteen modular pavilions within the famous historical collection of the Louvre Museum in Paris. Respecting its historical context, the design team embarks on a meticulous and systemic formal analysis to ensure that its "micro-architectures" are adequate within the emblematic French Museum. The design process begins with the "ark". in all its forms and variations, the arch stands out as a common denominator among the architectural elements of the Louvre through its different periods of construction.
images courtesy Studio Malka Architecture
continuing the multi-layered history of the paris museum
The Studio Malka Architecture team (see more here) designs the geometries and orientations of its Louvre pavilions to fit naturally into the axis of Paris Royal, a tribute to the perspective of the Arc de Triomphe and La Great Arch of La Défense.
The design team hopes the vaulted pavilions will introduce a new connection to the city's architectural landmarks, including the arcades lining Rue de Rivoli, the iconic bridge along the Seine or the Eiffel Tower. Both timeless and contemporary, the new modular arches will be a direct continuation of those built in the Louvre since the 12th century, highlighting the heritage of the building.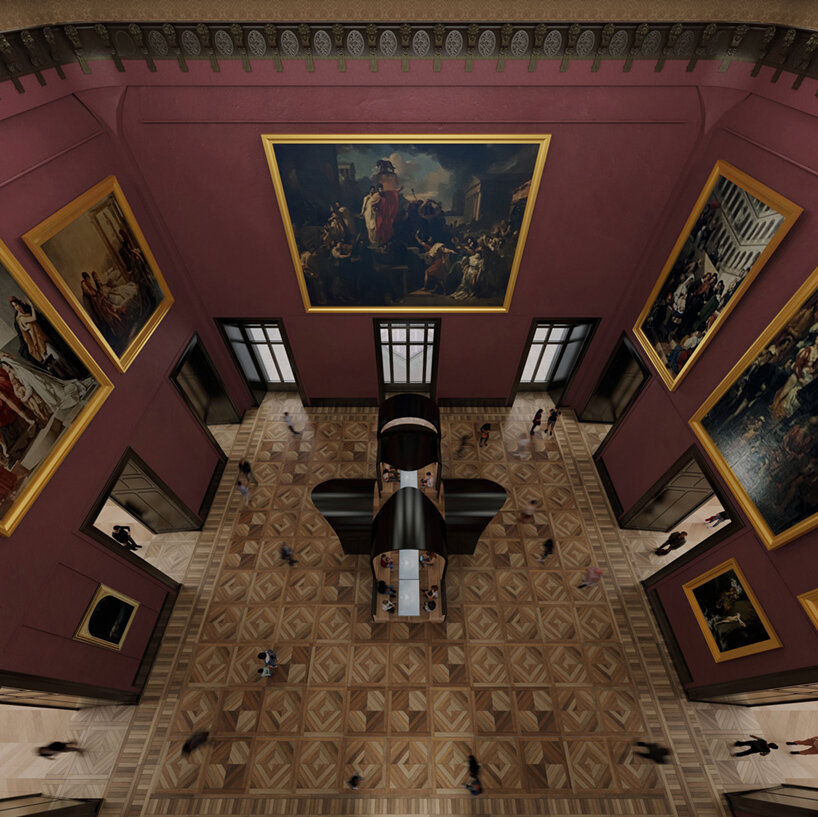 the modular design of studio malka
The Studio Malk team explains the modular design of its Louvre pavilions in Paris: 'Thanks to the different positions between the modules which can be connected face to face, back to back and even at right angles, the modular pavilions of the Louvre adapt perfectly to the geometry of the different rooms of the Museum.
'The combination of these modules generates multiple and varied geometries, such as successions of arches, vaults, domes, alcoves or star vaults of different heights.'